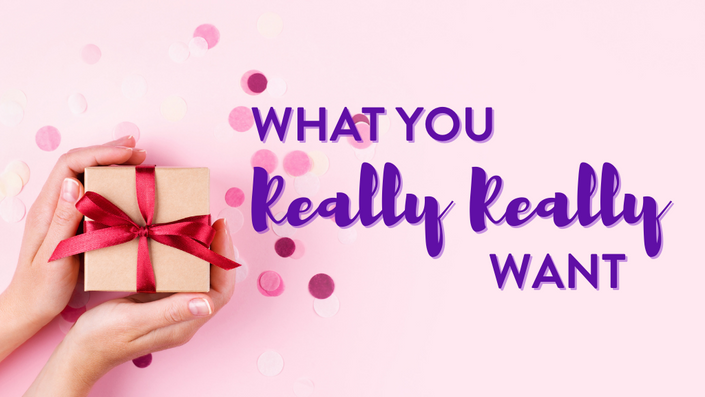 What You Really Really Want
June 17th - July 14th
Knowing what you want is hard.
In fact, when I tell people that I help people ask for what they want in their relationships and the bedroom, the #1 response I get is "I don't even know what that is!"
There are so many reasons why discerning your desire might be hard for you:
Maybe your strategy so far has been to focus all your time, attention and energy on other people's wants and whims and hope that eventually, maybe they'll figure yours out too? (Um, hi, that was me!)
Perhaps you get overwhelmed by all the people and all the things they want… It's so much that you can't hear what you want in all of that. (You're definitely not alone in that!)
Or you get stuck on on what's 'acceptable' or 'reasonable' to want (Yep, I've been there too!)
Maybe you've been in survival mode for so long that you can't remember doing things for pleasure or fun. (…Hello pandemic!)
Or you were raised in a family where your wants were constantly shut down or seen as a problem… so you learned not to have any. (You just described 79% of the people I work with.)
But what if It's not about "knowing" or "figuring out" what you want?
What if your desires aren't out there somewhere, hoping to be realized someday?
What if discerning your preferences and desires is a skill — one that can be learned?
What if the secret was in noticing them… right now?
Being able to notice (and trust) your desires and preferences in real-time is MAGICAL.
Hearing (really hearing) your own needs and wants — in the moment — means you can actually (finally!) get them met.
Tuning into what you really want (not just what you think you can get) is how you can start to expand your relationships and your life.
Your preferences, desires, and wants are happening all the time, including right now.
It just takes practice noticing, trusting, and listening to them.
That's what we do in What You Really Really Want.
In this virtual workshop, you'll learn:
How to identify what gets in the way of you noticing your desires (and what to do about it!)
Ways to create safety to explore and investigate what you want
Why context is key to accessing your desires — and how to use that to your advantage
The difference between wants and needs (and why that may not matter as much as you think)
Techniques to open up your options to see what you really want (not just what you think you can get)
Why it doesn't matter if you "deserve" something
Simple practices you can use any time to get clarity on what you really want — especially on desires that are hidden just out of view
And much more!
What this is not 👇
This is not a goal-setting or bucket-list workshop. You won't get a road map about what you should want, or learn how to convince yourself that you actually want something that you don't want.
This is about developing practices that will serve you in noticing, trusting, and valuing your preferences and desires, in the moment — no matter what they are or what you are doing.
Class details
31 days of writing prompts, embodied experiments, and opportunities to tune out the chatter of others' voices and listen to your own true yearnings, preferences, and priorities.
Whether it's what you want for dinner or what you want out of life, you'll discover so much about yourself!
Class Details
👉🏻 Daily prompts + practices by email
👉🏻 Meet online for five consecutive Wednesdays, June 17th - July 14th
👉🏻 Call times 5:30 pm - 7:30 pm PST
👉🏻 3 Q&A/coaching calls - recorded
👉🏻 2 co-work sessions - not recorded
👉🏻Using email, Teachable + Zoom
If it's time for you to uncover what YOU really, really want, join us for this transformative course! We start June 17th.
Your Instructor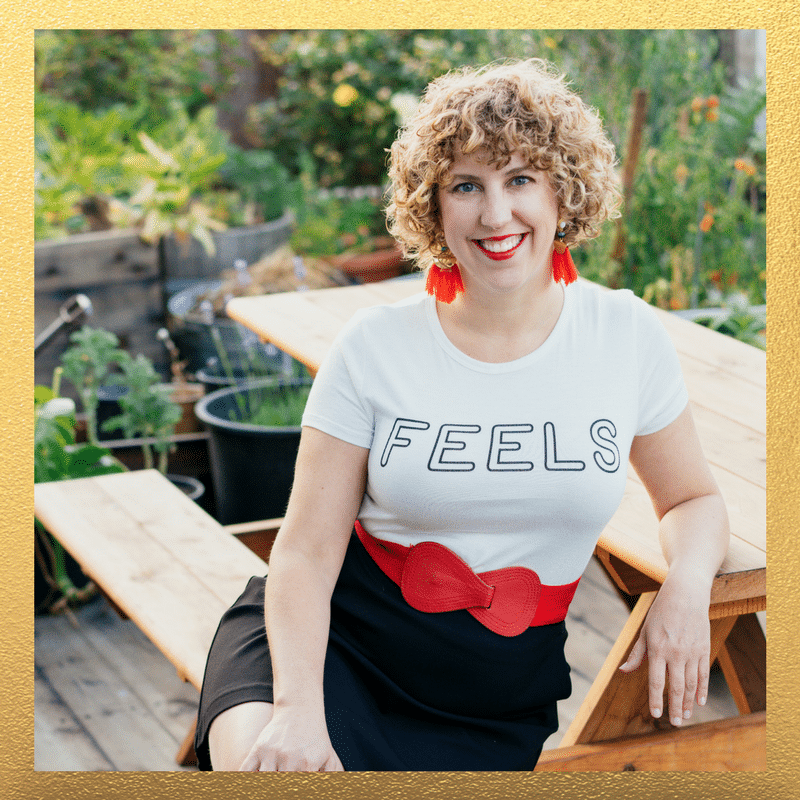 Marcia Baczynski, aka Marcia B, (she/her) is an internationally-recognized coach, writer and presenter on sexual communication, boundaries, consent and desire. Her primary mission is to help adults who want more connection and intimacy to overcome shame and get in touch with what they truly want – romantically, sexually and relationally – even if it's off the beaten path.
She is the co-author of Creating Consent Culture: A Handbook for Educators which can be purchased at most major booksellers.
Marcia brings wisdom, humor, and creativity to all aspects of her work, and offers a fresh perspective on love, sex and relationships. With expertise in boundaries, communication, open relationships, LGBTQ+ experiences and sex positivity, she helps her clients chart an authentic path for themselves. Since 2003, she has helped tens of thousands of people through her private coaching, workshops and group programs.
Frequently Asked Questions
Who is this course for?
This course is open to adults of any gender and sexual orientation who want to better understand their wants, needs and desires. It is an educational program, and not a substitute for therapy.
When does the course start and finish?
The first email goes out September 6th, and you will receive one daily until October 6th. There are 5 zoom meetings on consecutive Thursdays, starting September 8th, 6:00pm - 7:30pm PT / 9-10:30pm ET. Each class will meet on Zoom and will be recorded.
How long do I have access to the course materials?
Your access lasts for 120 days after the course ends - across any and all devices you own!
Where do the classes meet?
We meet on Zoom! You will get the link a few days before the first class. Each class will be recorded and uploaded to Teachable.
I'm a private person. Do I have to share my personal information in class?
The work we are doing together is really about self-reflection. While there will be plenty of opportunities to share insights and talk about discoveries during our meetings, it's all on your own terms. You do not have to share anything at all for all four weeks if you don't want to! You can ask questions anonymously, and participation is entirely optional. (You can even attend anonymously if that is a concern for you.)
What is the refund policy?
There are no refunds on this course. All Zoom calls are recorded and will be posted within 48 hours for you to watch on your own in case you have to miss a meeting. Please be sure you wish to purchase before doing so!